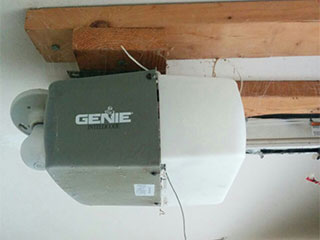 The truth is that Genie and Liftmaster garage door opener systems are extremely strong and require only limited maintenance. Though, their proper installation will point out the advantages of the products manufactured by these two amazing brands. Regular inspections will ensure that the opener system will work efficiently and safely. The specifications for safe operations are set with precision by the manufacturers and our services just come to confirm that the sensors are properly adjusted and the force control does not need new settings.
When it comes to garage door operation, perfection comes by the combination of excellent products and equally exceptional garage door repair services and we offer the very best! Genie and Liftmaster manufacture outstanding opener and remote systems and Garage Door Repair Round Rock is here to make sure they will last for a long time and will continually provide safety for our customers.
We install, replace, maintain, and repair Genie and Liftmaster openers
In an effort to minimize garage door opener maintenance, Liftmaster engineers have made some modifications to the screw drive openers. These openers now have one-piece rail, which is made of galvanized steel in order to be more resistant and require minimum treatment. Liftmaster invests in such innovative steps and their products enhance your security and safety too. With our services, you can be sure that your Liftmaster door opener will be installed in total compliance with the specifications of the manufacturer, the UL 325 guidelines and absolute precision. Furthermore, we can teach you how to use the smart panel, replace the backup battery, and fix any damaged part of the opener.
Our Genie repair experts are available for services any time. The new ReliaG openers come with pre-programmed remote controls. In addition, we can program the clicker of any other opener model you choose. Following strictly the recommendations of the Genie Company, your DC garage door motors will be installed with accuracy and without changing their settings since their speed is perfectly set already by the factory. If the door doesn't move when the wall console is pressed, if it stops as soon as it begins to open up or the door opener starts working with no apparent reason, we'll be there to troubleshoot and fix it immediately. Genie openers are amazingly strong but that doesn't mean services are not needed overtime. On the contrary, with our excellent installation, repair, and maintenance services, they will continue to be powerful and serve you efficiently for years. After all, apart from having different objectives, both Genie and our company share one common goal: to ensure your security and safety. Email us if you need Genie or Liftmaster service!