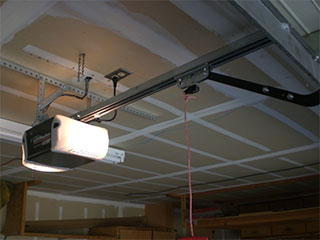 Electric garage door openers work with an easy mechanism and can last a long time. Fortunately, a door opener does not require constant maintenance or care.
However, in some circumstances it is crucial to consider a replacement. New door openers offer increased safety, convenience and better security of your garage.
Here are five reasons why you need a new door opener for your garage.
Safety reversal mechanism no longer working

Garage door openers usually come with a safety reversing system. This system uses two sensors that are placed six inches above ground level on both sides of the door. If any person or object passes through the light beam that is produced by these sensors while the door is closing, the opener immediately stops and reverses to open.
If your garage door opener does not have a properly functioning safety reversing system in place, it is recommended that you get the opener replaced.

Having sounder security for your garage

As compared to new door openers, older models were quite vulnerable to burglars. This was because their remote controls worked with a fixed code; anyone with a device who knew how to hack the code could easily break in.
Latest door openers are installed with a rolling code system. This system changes the code each time the unit is used. Thieves and burglars can no longer copy the code and get into your garage.

Some much-needed noise control

Does your garage's door opener disturb the neighbors because of the awful noise it makes when opening/closing the door? Older garage door openers work with a chain drive. If you can notice something that looks similar to a bicycle chain near the motor unit of your door opener, you can get it replaced with a belt drive opener.
You can get rid of the creeks and other irritable noises by replacing the opener.

No more keys!

Older door openers did not have keypads to open or close the garage door. With newer models coming equipped with a keypad, you can do the same by just pushing one button.
If the opener is going out of your pocket, why not purchase a separate keypad unit? Simply buy a new keypad unit and install it with your existing automatic garage door opener.
Furthermore, keypads also eliminate the need to remember any codes. They work by touch, using fingerprint detection and/or scanning to open and close the door. This also brings added security to your premises.

Dealing with power outages

Quite often power outages are the major inconvenience rather than anything else. If you live in an area where the power goes out quite often, having a batter backup system might be a good idea.
New openers are available with battery backup systems that will keep the door operable even if the power goes out.