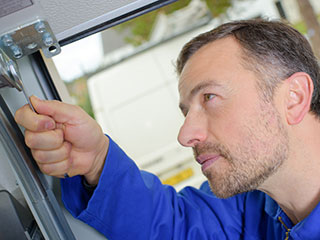 Wear and Tear
A garage door, like any other mechanical object, has a slew of moving parts and pieces that undergo severe wear and tear during normal use. They are exposed to the weather and all that that entails every day, as well as sometimes rough handling from kids or house-sitters. Maintaining your door might mean caring for the rollers, the trolley, the motor, the springs, or any of the moving parts that have either stopped moving or are moving too much. It could also mean replacing worn panels for a cleaner looking exterior, or cleaning the rust off a piece so that it doesn't need to be replaced. Proper maintenance can go a long way toward the longevity of your door and prevent issues for you in the future.
Expert Care and Assistance
Our technicians have the experience to provide expert care for any and all parts of your garage door. Our long history of exceptional service shows that we mean business when it comes to keeping your door at its peak performance. Trying to service the parts yourself could be a dangerous endeavor due to the weight and force inherent in the pieces that keep a garage door moving, so allow us to safely complete your maintenance and repair. We are well-versed in all of the five types of openers, two types of springs, and variety of other parts that keep you moving, and we make your satisfaction a top priority.
You May Also Need:
We provide top quality parts and service for any concern you may have with your garage door. An annual maintenance check will help us make sure that you don't encounter any unforeseen problems. Our technicians will visually inspect your door and check for safety, rust, excessive wear, and whether you have minor repairs that could be performed to save you a major headache in the future.
Contact Garage Door Repair Round Rock to schedule your maintenance visit and ask any questions you may have.
But wait, there's more! We also offer:
Garage Door Opener Maintenance
Opener Sensor Replacement
Galvanized Torsion Spring Installation