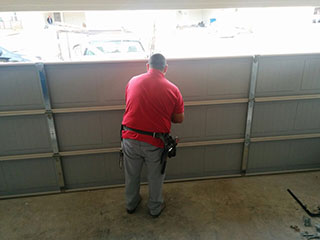 Our experienced repair technicians are devoted to providing our clients with services that will lengthen the life of their automated doors, limit the need for costly replacements, and allow their doors to be used safely for extended periods of time. We offer a wide array of garage door repair, maintenance, replacement and installation services perfect for homes in and around Round Rock. Here is a little bit more about the services we provide:
Installations and Replacements
We work with a huge selection of products and well-known manufacturers of replacement parts for doors, which means that we are able to provide you with the exact fit for your needs when it comes to installations. We approach all installations with the utmost care and work hard to ensure that you get the most out of your doors.
Thorough and Careful Maintenance
As strong and durable as your garage doors are, they will likely sustain some damage over time. Routine inspection and servicing of the door are helpful in extending the life of the system. That is why we offer regular garage door maintenance services which allow us to carefully inspect each part of your system, and perform repairs and restorations as needed, before anything breaks or malfunctions.
Opener and Garage Door Repairs
We offer extensive and thorough garage door repairs for doors, panels, and automation equipment such as receivers, motors, tracks, wheels, bearings, and springs. We replace them with original parts to make sure that your door operates in peak condition at all times. We also provide emergency repairs with quick response-times, to ensure that a broken door doesn't jeopardize the security of your home, family, and assets, or cause too much of an inconvenience in your schedule.
Contact Our Team for Further Details
We provide the above-mentioned services with top-rated customer support, so why not get into contact with a consultant from Garage Door Repair Round Rock today for answers to any questions you may have.
Looking for more? We also offer:
Garage Door Troubleshooting Services
Belt Drive Opener Installation
Torsion & Extension Spring Replacement
Garage Door Off Track Repair